Discover more from A FOUNTAIN
A newsletter with an objective. Once or twice a week.
PIT STOP
A NINETINE SONG PLAYLIST
Objective: PIT
AVOCADOS GET A BAD RAP. maybe deservingly so. a quick goog search and I find that a half order of avocado toast at the butcher's daughter (cilantro, lime, mustard seed) will run you 11 bucks. 14 for a full order AKA A SHONDA! snake oil for rich fools.
But HERES THE THING. look at this pit.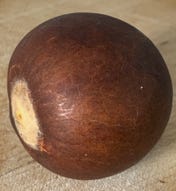 there was once, like, a weird fleshy green paste around it. is this thing even a fruit? The longer I look at it the more I realize how weird and beautiful it is (and a little gross, but truly beautiful things be like that sometimes). I remind myself it's important (or at least cool) to hold things in my mind's eye and to strip away the frivolous context. An avocado pit suspended in nothingness. what do I see? TRUE BEAUTY.
OK, BUT YOU GUYS DON'T HAVE THIS PIT IN FRONT OF YOU, SO MAYBE YOU CAN'T SEE WHAT THIS PIT MEANS TO ME AT THE MOMENT (ITS TRUE MEANING THAT IS). OK, BUT WORDS HAVE MEANING, TOO. AND THEY ARE MADE UP OF LETTERS WHICH CAN HAVE THEIR OWN MEANING. AND THAT MEANING CAN CHANGE. & ONCE THE WORD TAKES ON NEW MEANING SO MIGHT THE REFERENT:
P-I-T, P-I-T, P-I-T, P-I-T, P-I-T, P-I-T, P-I-T…………(x infinity)

Paolo Sorrentino's film The Great Beauty shows us that being a cool & handsome Italian artist can actually suck. Knowing every person who's somebody to know can make you like people less. And going to raves with hot people and smart people and people who are hot and smart, can be joyless (even when ur having fun).
"Why didn't you write another book?" a hot and smart person asks Jep, the main character.
"I went out at night too much"
But under quarantine, life indoors isn't much better. We thought we'd like it……….. 
Watching Criterion channel. Meticulously cooking every meal. Starting a 10,000 piece puzzle. Yoga. Baking focaccia. Criterion free trial ends, Mubi free trial begins. Burpees. Turns out that sh*t kind of sucks too.
I guess the important part is that both only KINDOF suck. The reality is: raves are known to be fun and Italian flatbread rocks. The suck/rock ratio can and will bring brief disappointment but ALSO JOY. And both are fleeting which means life is mostly the parts in between, which is NEUTRAL AND CHILL

a short film in which 96 people are choreographed to recreate a failed bank robbery incident that took place in Stockholm, 2006.  Two robbers enter a bank, realize it's the wrong entrance, and go to the correct entrance. The bad guys are caught immediately. In the end, It's pretty uneventful. It doesn't even look like the robbers got any money in their flimsy plastic bag. Without the highs and lows of dramatic storytelling ARE THEY EVEN BAD GUYS? Just as quickly as the pedestrian witnesses pull out their phones to film the robber, they, with equal haste, move on with their day, ignoring the robber. Probably to look at their phones some more. WHO IS THE EVIL ONE NOW. Anyways, I'm going to try and reduce my screen time this week.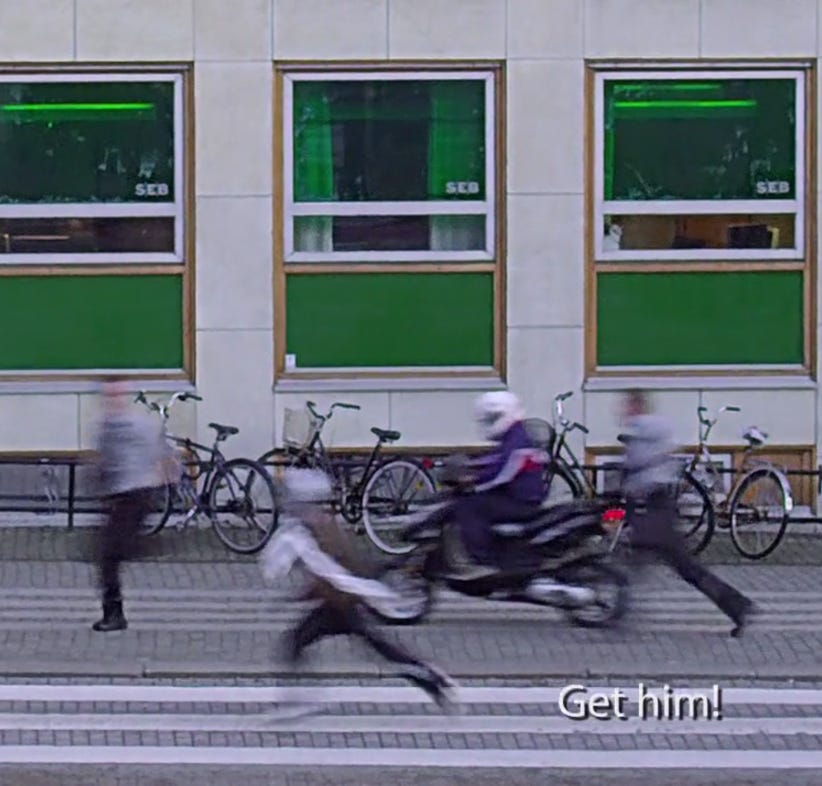 "I knew all along that they just weren't saying it. It's a surprise to me that it actually happened. And we're all really excited, because as American citizens, we need to hold our government accountable. We need to inform them that they work for us, not the other way around" —Tom Delonge, co-founder of Blink-182 and To the Stars…Academy of Arts & Sciences, on the Navy giving him props for his UFO footage.
Tom Delonge has always been an eagle-eyed observer (that's why he's a great artist), whether it's his parent's sudden divorce, or extraterrestrial affairs. Bottom line, If contact is ever made in my lifetime, I'd like to see Mr. Delonge represent me in some kind of interplanetary tribunal. Because he knows the bottom line when it comes to understanding the role of government in crisis—THAT THEY ARE PUBLIC SERVANTS.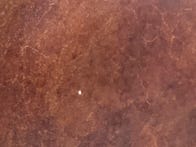 Pit, really zoomed in
I would like to leave you with the following media if a picture is worth a thousand words then this 1 hour and 9-minute playlist is worth at least 109 thousand.
TL;DR this video below sums up all of my thoughts and feelings.
This letter was made by Derek Zheng. You can contact him using dkzg3000@gmail.com or on Instagram @derekzheng_

If you'd like to create a letter, send an email of interest to jwenzhuang@gmail.com, or @wenevernever.