Discover more from A FOUNTAIN
A newsletter with an objective. Once or twice a week.
Worms Chasing the Moon
Foods for thought
Objective: Round foods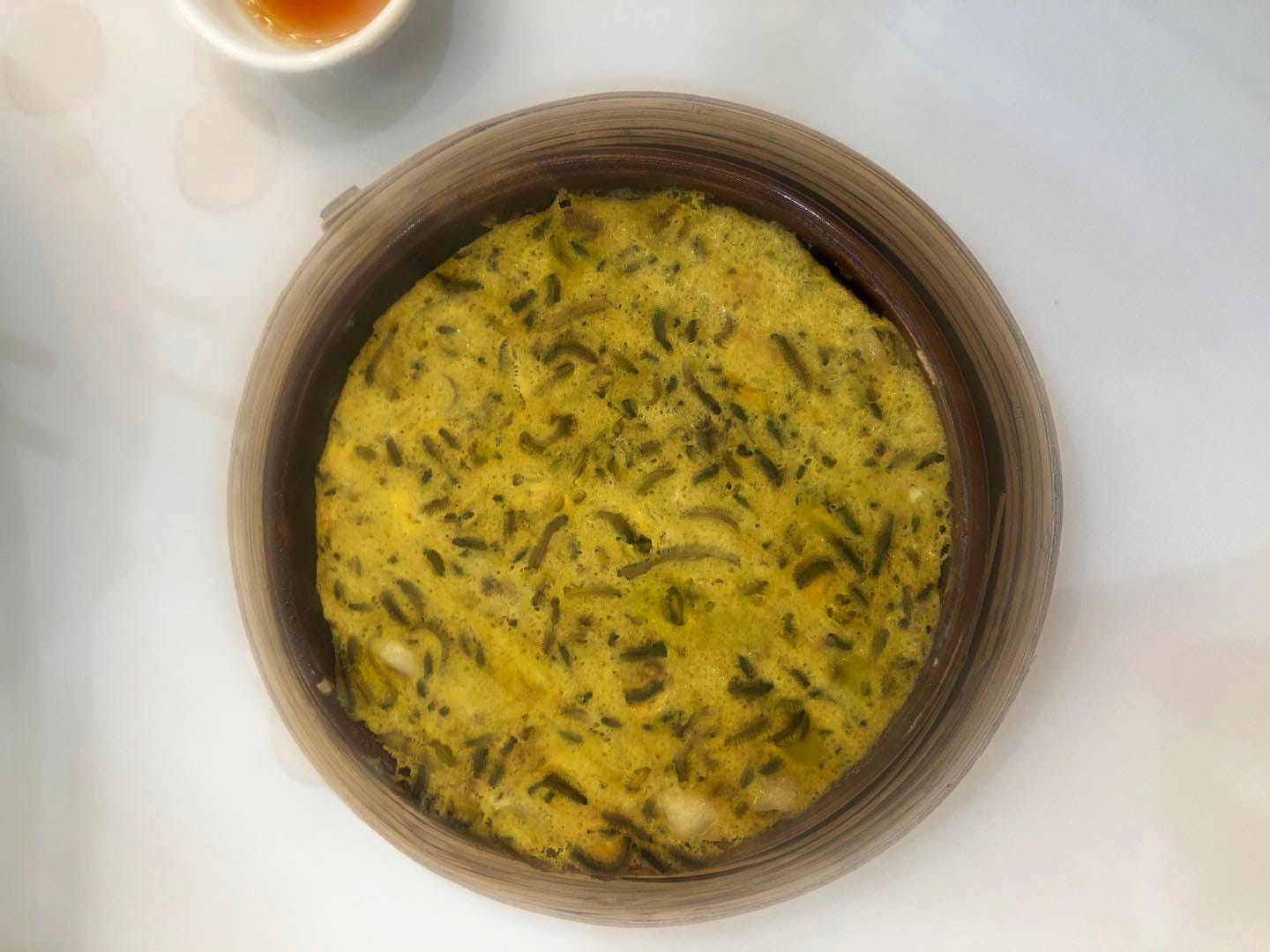 I learned of a dish last Fall when I met some relatives in Guang Zhou that I had never met before. The purpose of the trip was due to my mom, and some death and some great-uncle's wife. As most trips go, I distinctly remembered the food I came across. Many round, most delicious, and all of which fairly easy to replicate. Except maybe this first one, which perhaps isn't the most appetizing dish to begin my letter. It's a dish called 禾虫 or Chinese for "ragworm." I initially thought it might be similar to a quiche, but soon learned it really was not.
This dish is a delicacy in Guangzhou, full of protein. The worms used only come out twice a year, in April and November. If you're reading this from China, you might've already had your taste.
These worms have quite the origin story too. They follow the light of the moon and swim up to the surface of the lake. It's a bit sublime, to think of these small creatures who spend their lives chasing the moonlight, just to end up steamed into a dish. The dish does preserve two things, though: the shape of the moon, and the fat of the worms, which gives the dish its yellow color. The cooking of the worms is sometimes called "禾虫在追月亮" or Chinese for "Worms chasing the moon." I did try a bite. It tasted a bit like a sweet textured steamed egg.
---
My fascination with round foods extends beyond the Ragworm. I love the layout of a round table. There's something adverse about a rectangular table. The choice of who sits at the ends presents unnecessary hierarchy. The circle reminds me of something whole, something equal. Everyone sitting around the table cuts and shares from one point. 元结 is really the word I want to use, it's hard to translate, but it's vaguely about being harmonious and complete. My mom always joked that in Western restaurants people only order their own dish because they're too afraid to try something different Or that maybe people don't like to share. I think it might be both.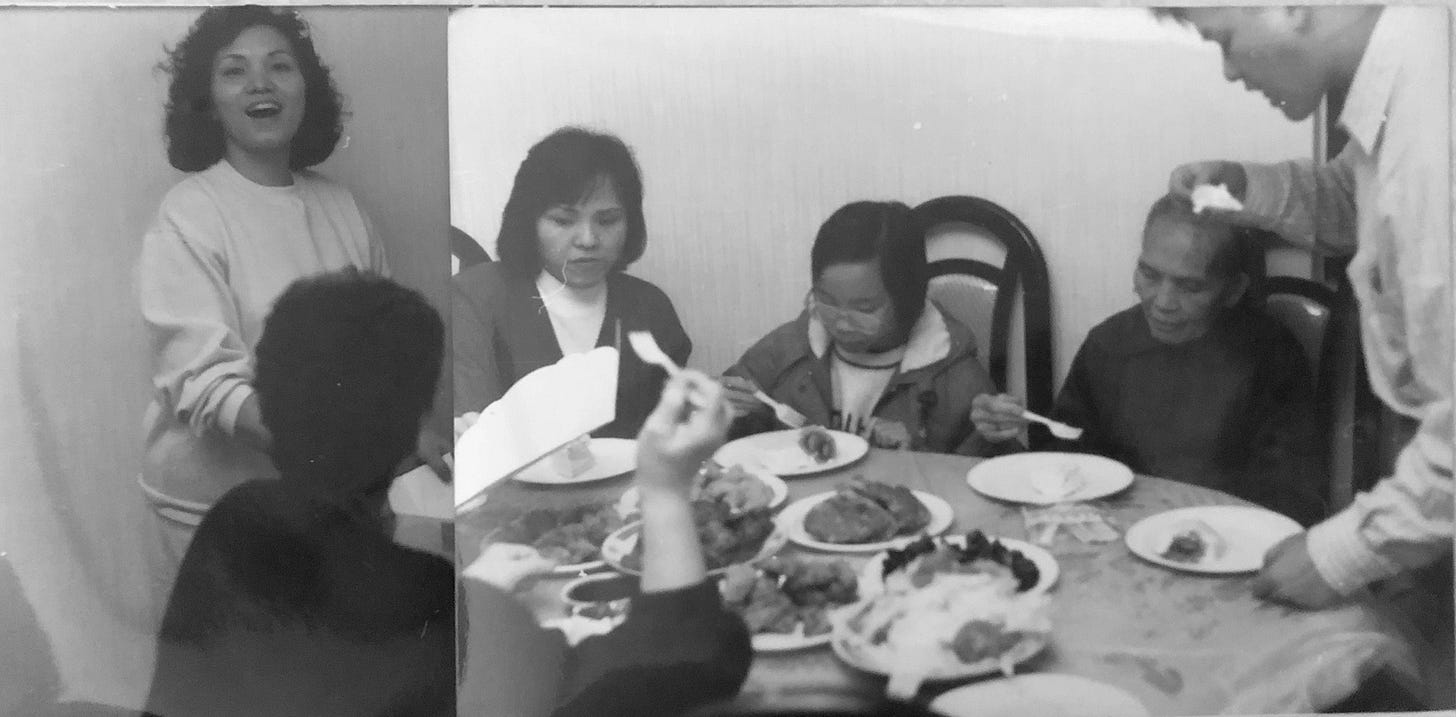 My relatives at a table. In order from left to right: grandma (looking at the camera), my grandma's younger sister, my grandma's niece, my great-grandma.
I've collected some recipes (sans worms), very tasty ones in fact, from friends and family. There are deserts, a dish with pork-chops, a drink recipe from my grandmother, and one from a class Shaina and I took with Chef Matteo in Florence last summer.
Loukoumades (Sweet fritters) 
Ingredients: 1 cup milk, 1 3/4 cups of self-rising cake flour, Oil for frying, Honey, Chopped nuts, Cinnamon
Instructions:
Combine milk and flour and beat until batter is thick and bubbly

In a heavy saucepan heat 2 inches of oil to 360 degrees

Drop batter by the tablespoonful into the hot oil. Fry only a few at a time and turn as soon as the loukoumades are golden brown on the underside.

When brown all over, drain on a napkin on plate or bowl, place on a serving platter

Sprinkle with a generous amount of honey, some chopped nuts, and cinnamon. Serve warm.

---

Tiramisu (around 4-6 servings)
Ingredients: 400 g mascarpone, Pack or two of ladyfingers, 80 g sugar, 4 large eggs, 1 bowl of coffee (I prefer cold brew since it doesn't melt the mascarpone mix), Hershey's unsweetened cocoa 
Instructions: 
Divide the egg yolks from the egg white, in a bowl of egg whites whisk with a fork or with an electric mixer until it reaches a stiff peak.

In another bowl, mix the egg yolk and sugar and whisk till the cream is light and sparkling. Gently put the mascarpone inside.

Add the egg white to the cream and mix it all together. Don't wait too long or the egg whites start to get runny

Soak the ladyfingers quickly into the coffee and lay them down in a dish or chosen glass (I just put them in circular plastic containers from supermarkets or dessert glass jars). Make sure the ladyfingers aren't too soggy, dip them for half a second in the coffee on both sides.

With a spoon, cover the ladyfingers with a layer of the mascarpone cream mix, cover the cream with a layer of cocoa powder with a sifter or steel tea ball infuser. 

Repeat another layer, but don't add the cocoa powder on the last top layer, save for after refrigerating.

Cover the glass or dish with saran wrap or foil, refrigerate for 2-3 hours, add the last layer of cocoa powder when done refrigerating. 

---

Maggie's Rose Cakes
Flower filling: a big bowl of fragrant fresh rose petals or other edible flowers, some crushed nuts, big spoonful sugar, and big spoonful honey.
Mash together. Makes 8 balls. 
Crusty Crust: 5/4 c flour, 1/4 c ghee/oil, 1/2 c warm water. 
Mix and roll into 8 flat sheets.
Buttery Balls: 3/4 c flour, 1/4 c ghee/oil.
Mix and roll into 8 balls.

Put buttery balls on top of crusty crusts and roll each into a bigger ball, with buttery balls in middle. now roll into 8 cylindrical tubes and flatten these tubes as long and thin as you can. roll them up. 

Place flower filling in center and roll into a ball again, flattening into a disk shape. if you desire, stamp a classic insignia on your cakes. bake at 175°C/350°F for approx. 30 minutes. 
---
Grandma's Sweet and Sour Ketchup Pork Chops
Ingredients: A pack of boneless pork chops ( 2 large pieces or 3-4 small pieces), White sugar, Salt, Water, 1/2 tbsp of cornstarch, 1 and 1/2 tbsp of soy sauce, 1 white onion, sliced, Small bowl of ketchup, 1/2 soup spoon of rice vinegar.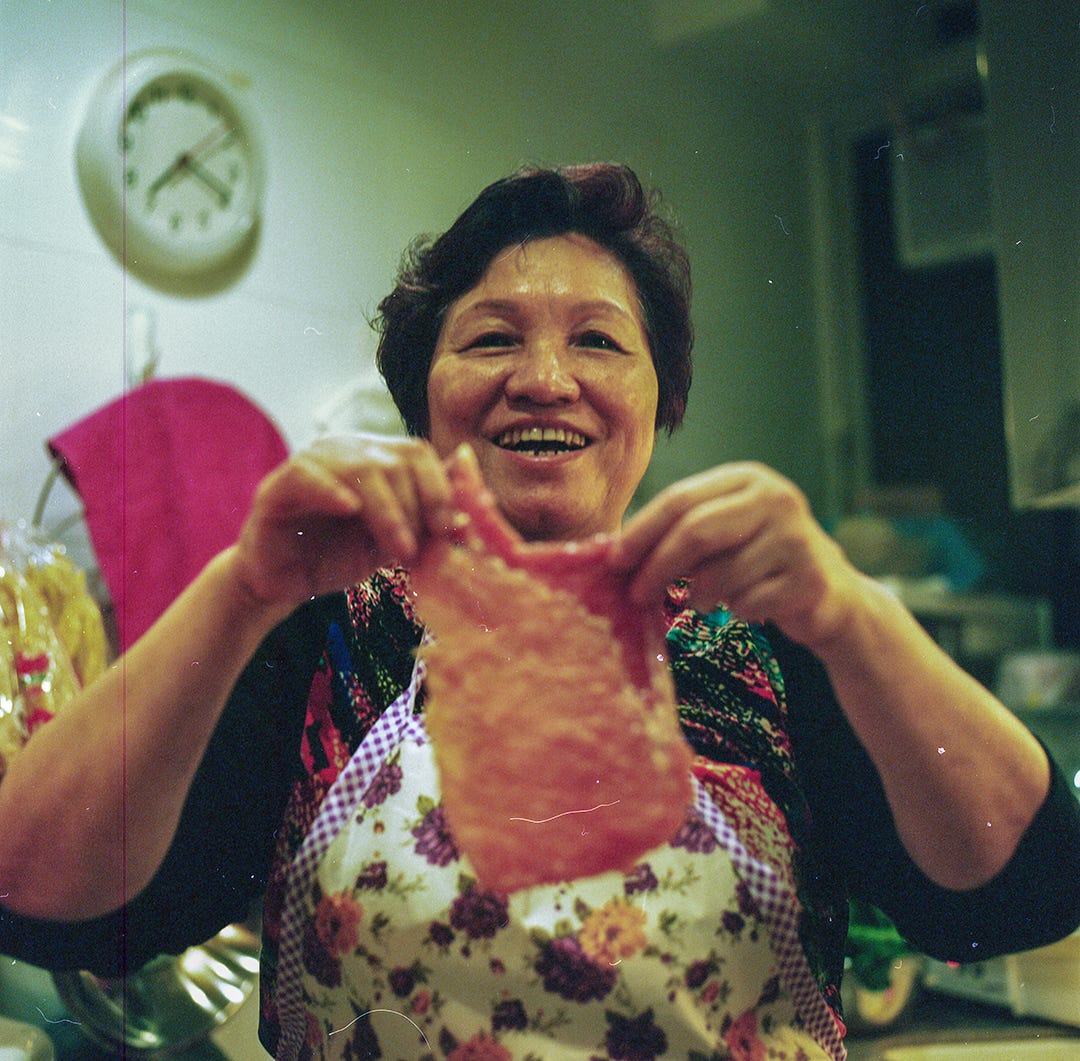 Instructions:
Wash pork chops under running water, soak the water out with a napkin.

Tenderize the pork chops by using the back of your knife (or a meat pounder) to lightly pound the meat horizontally and vertically

Put pork chops in a bowl and add 1/2 tbsp of sugar, 1/2 tbsp of cornstarch, 1/4 salt, 1 and a half tbsp of soy sauce and 1 tbsp of water. Stir the meat with chopsticks to let the sauces absorb evenly into the meat. Assess if it's too dry and if so add another tbsp of water.

Add a drop of oil on a non-stick pan and lay the pork chop onto the pan on low-medium heat. Place cover over pan. Flip to the other side when golden brown.

Slice onion put it into the pan, let it fry, and steam with the pork. Put a cover over pan.

In a small rice bowl fill over half the bowl with ketchup, add 3 tbsp of white sugar, 1/2 soup spoon rice vinegar, 1/4 tbsp of salt, and mix. Add 1-2 tbsp of water and mix.

In another pot or pan heat up the ketchup mix for a minute or two until warm.

When the meat is done, take it out, turn off the fire, leave onions in the pan. Cut the pork chop into thick strips and put it back into the pan. Mix around with onion. Pour ketchup mixture over the pork chops and onion. 

Plate then serve with white rice. 

---
Papaya Almond Milk Dessert
Ingredients: Ripe papaya, blanched almonds, almond milk, brown sugar
Chill papaya in the fridge for a couple of hours then cut the papaya in half horizontally. Spoon out and toss all the seeds. Place papaya upright on top of a cup with a big opening. 

From the middle, scoop out papaya into a bowl ( leave 1/2 inch of papaya on the outer rim for sturdiness) 

Smash papaya with a fork till it's soft, leave in a bowl on the side.

In a blender, put in 1 tbsp of blanched almonds, 1/2 cup of almond milk, and 1/2 cup of water. Blend till almonds are fine

In a pot, heat up the almond milk mixture with 1 tbsp of sugar and heat till warm

Pour almond milk mixture into the papaya, leave room to scoop papaya paste back into the milk.
---
Eat Drink Man Woman, a Taiwanese film by Ang Lee. With the most captivating opening sequence of a chef preparing an elaborate dinner for his family. 
Only Yesterday, an animated film on childhood memory by Isao Takahata. I don't watch a lot of animated films but I think this is one of my favorite movies I've ever seen so I highly highly recommend it.
@chinese_plating on Instagram. Beautiful Chinese food designs taken from the National Archives in Beijing. My grandpa used to work in a Dimsum restaurant and specialized in ice-sculpting and fruit-sculpting for banquets. I wish I had some photos to share but I'll have to do more digging…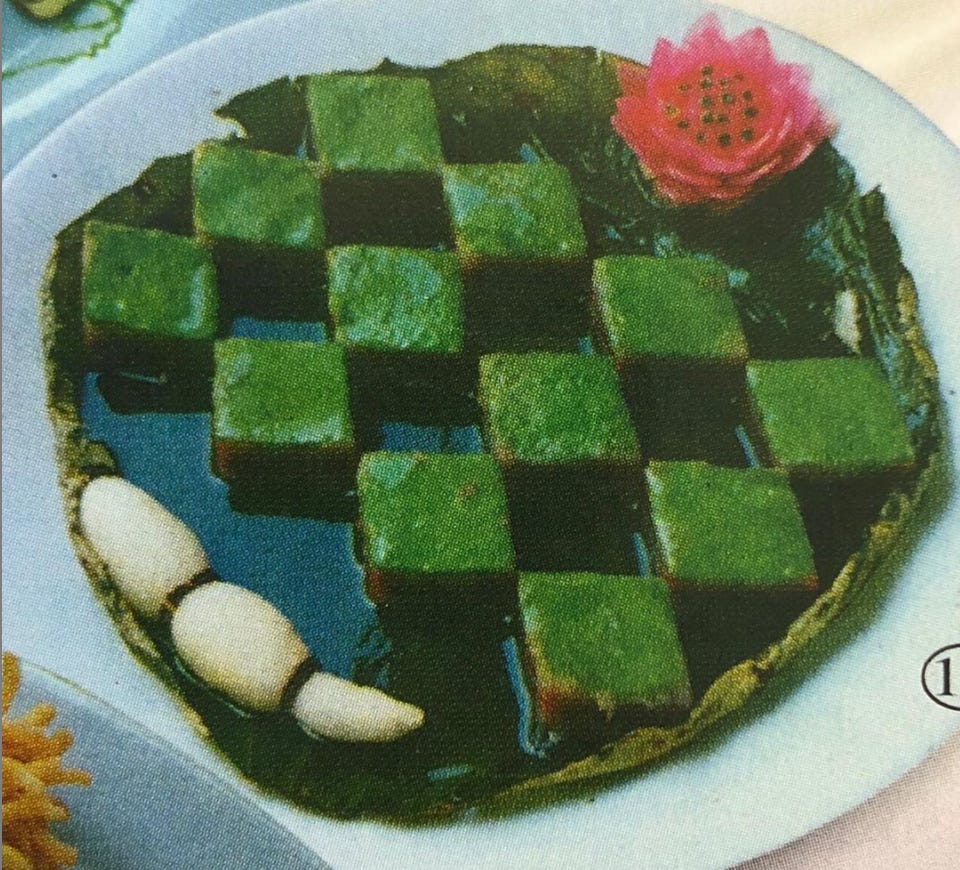 I would love to see photos of any recipes you've tried from this, or even any photos of round dishes and plating designs you'd like to share. Send them to me on Instagram @tif_ng or via email: tng01@alumni.risd.edu
This week's letter was made by Tiffany Ng. If you would like to create a letter, email jwenzhuang@gmail.com with ideas, submissions, or questions.