Discover more from A FOUNTAIN
A newsletter with an objective. Once or twice a week.
The sight is clearer, the rear is darker
Sitting on all the things
Objective: a seat
Every time we aren't standing. While walking, we think we think, but it is incomparable to the thinking that takes shape when I sit.
For a couple of days the incentive to write spread thin, everything in the periphery felt prone to premeditation. All the objects in sight foreshadowed a personal intent to say something that wasn't anchored to substance; small fantasies perhaps. Sooner than not I realized everything in sight would focus on a specific point— my seat. A 1000mL Nalgene bottle, a Perennial Classics copy of Native Son, a Tolomeo lamp, and a Cochinilla's Carmin dyed rug wouldn't be over analyzed if I was not anchored to this place.
Assigned seats are protocols.
Assigned seats suggest collective understanding. As is the case (in favor) of fashion brand Balenciaga, which just a few months ago received a fair share of press for a collection exploring the "political arena". By mimicking the focal arrangement that corrals government assemblies, Balenciaga managed to transplant the public's association of world power to a Paris runway. Running on the illusion—even though far from true— that the brand's current season was loaded with political weight. A cheap trick if you ask me. But for our purposes it proved, based on wide reception of the Balenciaga show as opposed to the garments, that seat organization like protocols, can also define the worlds in which we reside.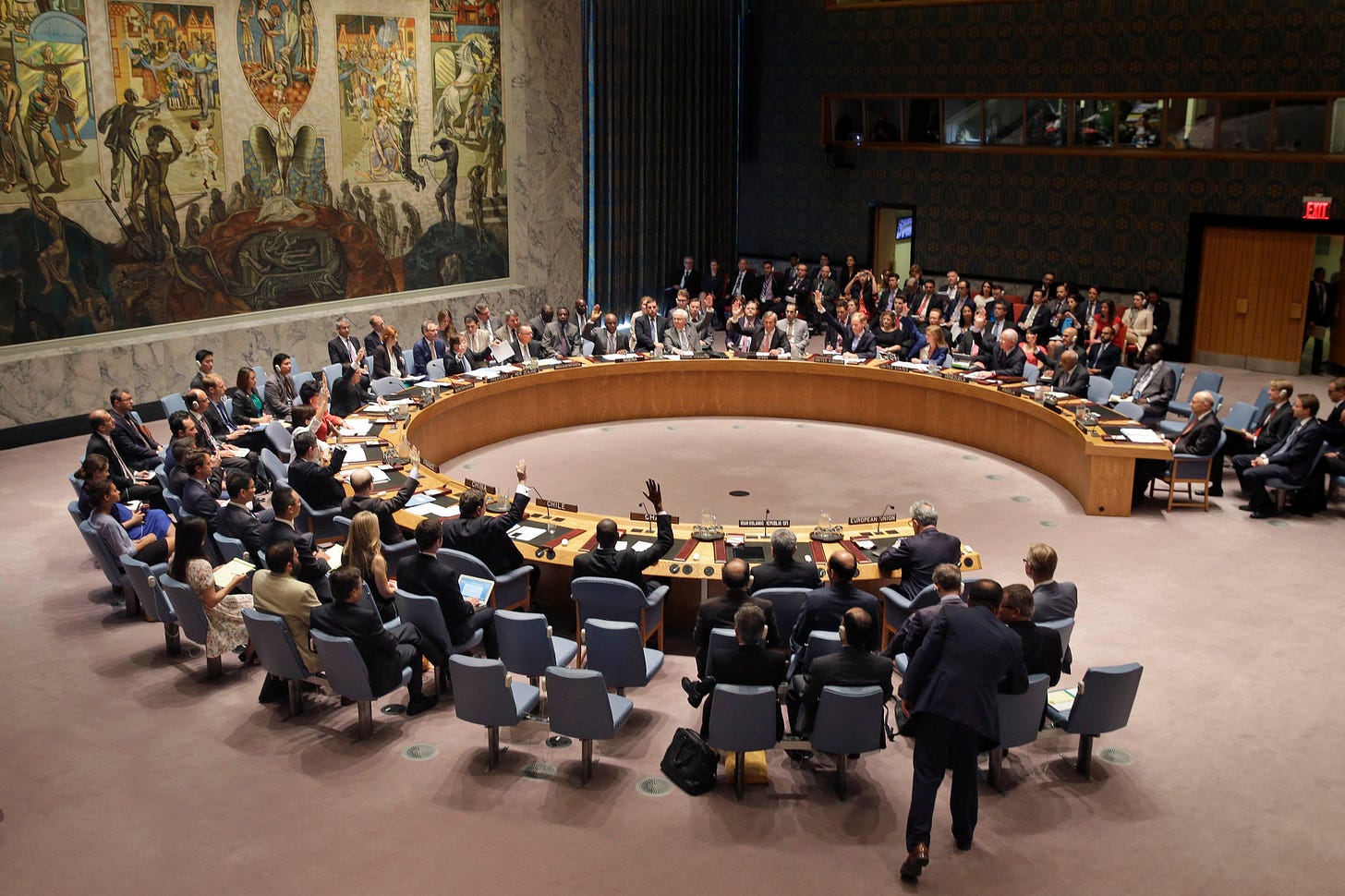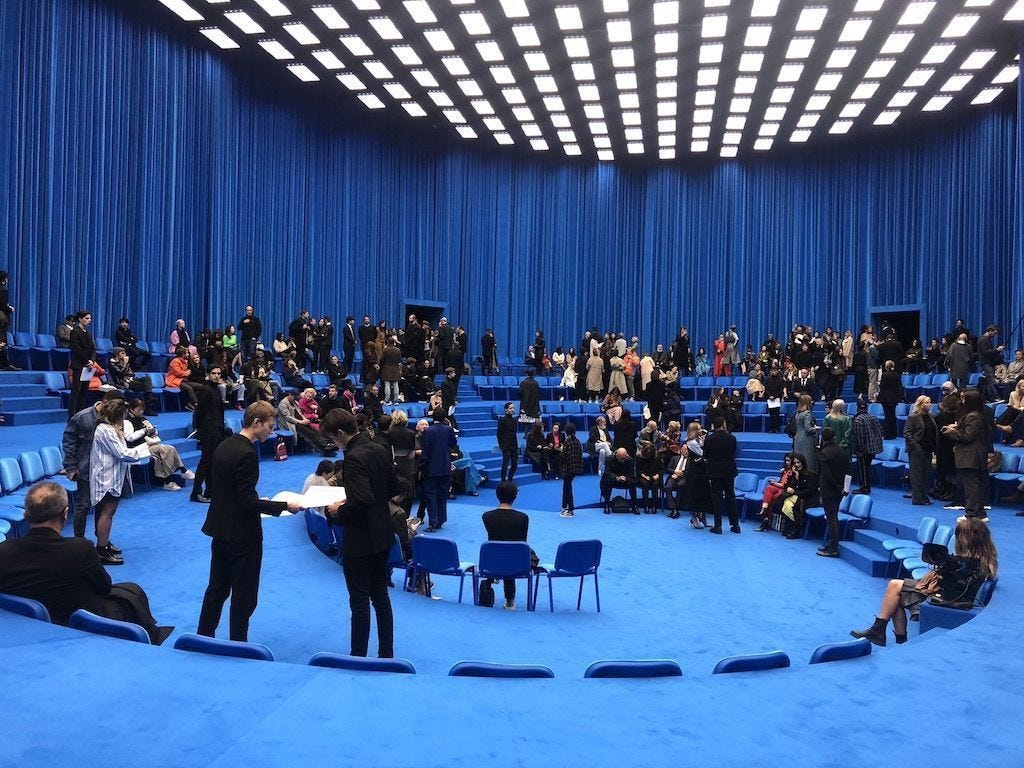 A unit of seating, a chair.
A chair is prosthetic, just a couple of surfaces to lay on. But for the great majority, the chair alone represents an institution composed of utilitarian tropes: a backrest, legs, and a platform. There could be more (or maybe less?). Loaded with satirical wit, Bruno Bruno Munari's article "Seeking Comfort in an Uncomfortable Chair" accompanying images attempt to address the eccentricity of 40's design. He believed that chair design steered far from pragmatism, such absurdity in his eyes could only be interpreted while resting in different configurations around the mass of a sofa. In his attempt to deconstruct the modern chair, I firmly believe accidentally repositions the tropes that define the typical chair. It feels as: if you happen to misinterpret it, that the images are more constructive than the apparent disruptiveness.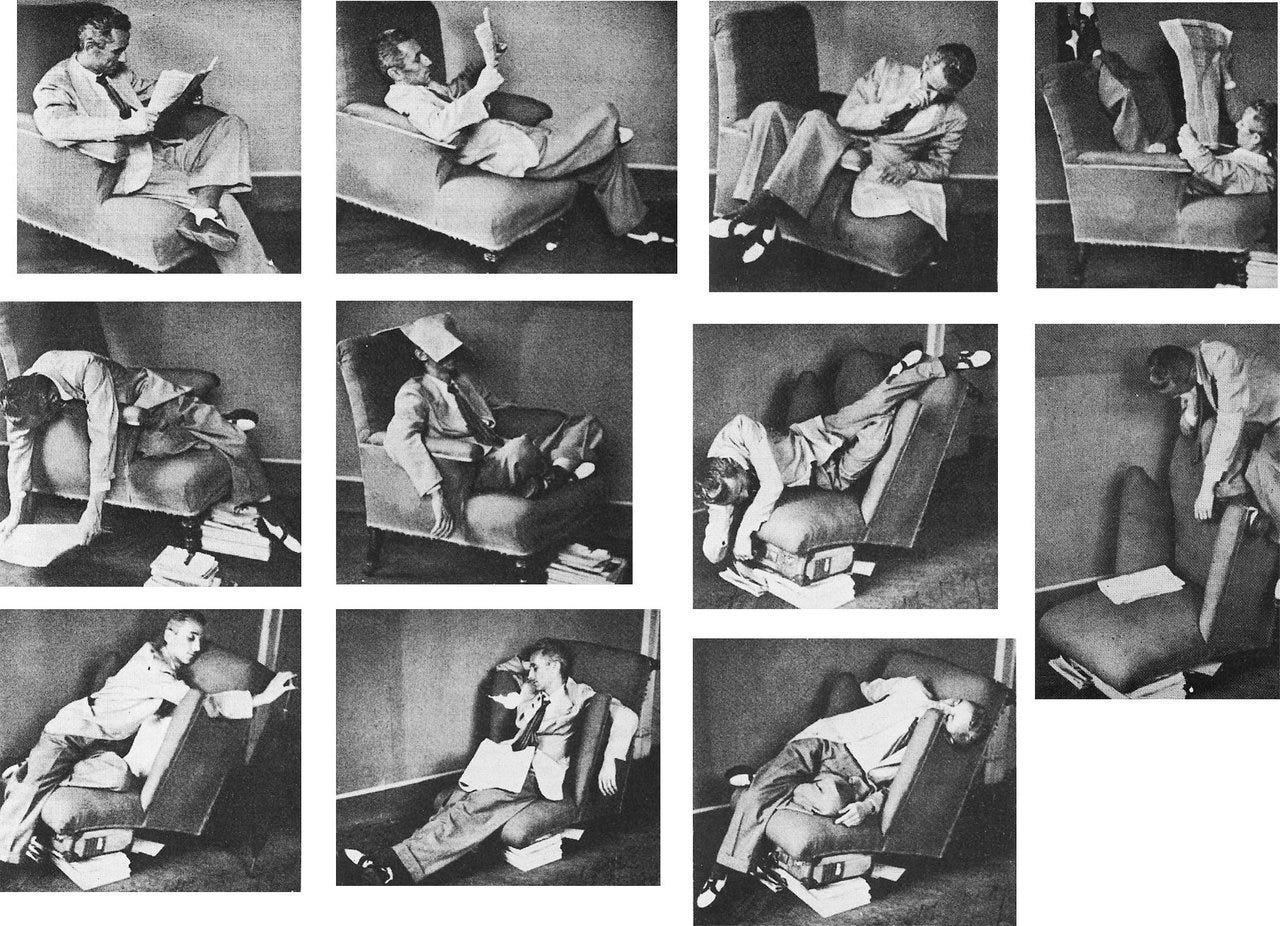 Personal seat
Subject to multiple versions, scattered in notes and sometimes sudden flashes, this account embodies the most visceral, if not the fastest association with the act of sitting. Since the memory is so remnant it must have some significance. There is a corridor on the east wing of a museum of my hometown. The size of a warehouse, the width of a road; nothing but five surfaces toned in Sonora brown, the sixth, a void of unfathomable blue. Three benches in which to rejoice the light. While there, alone, I did not look up, the corridor gripped time, for the first time in years the world preserved every quality that I enjoyed. I clearly remember solitude on that very bench murmuring our history together all at once.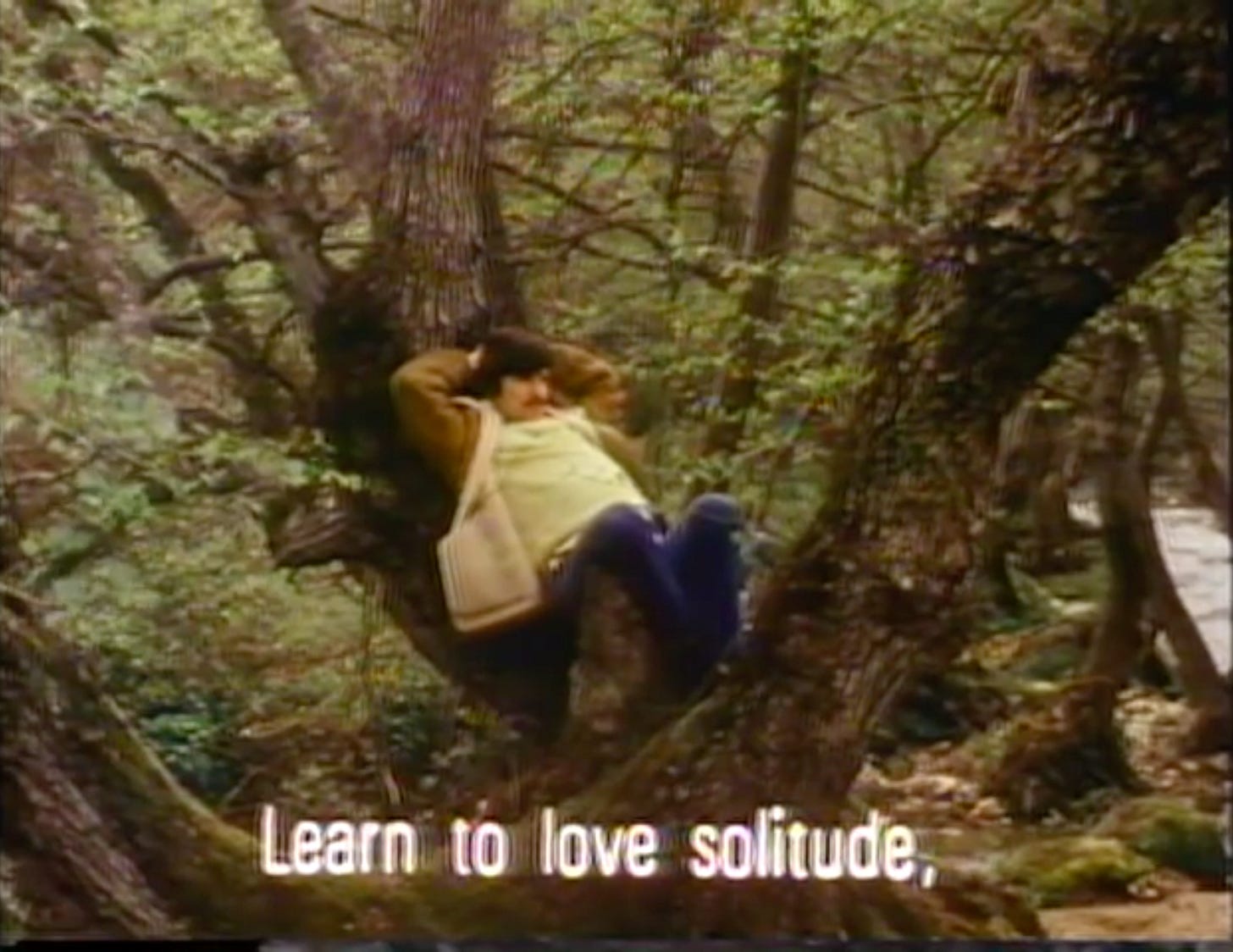 NO guidelines for a true seat.
A true seat is a state of mind. It is not an assigned seat, it propels intimate thought, an unassuming role. Assigned seats become props, like a subway seat, rehearsal tools for the character that sits there— your office chair for example. Sit in a patch of grass, the concrete floor, a brick, a milk crate, stairs, straw hay, or sidewalk; think things that are not tethered to transient life.
---
An assortment of seating:
Bibliography
Tarkovsky seated on a branch.

Balenciaga show (quite mesmerizing)

Bruno Munari's "Searching for Comfort in an Uncomfortable Chair"
---
This letter was written by Adrian Gonzalez-Lopez. He can be reached by email: adr.gonz.lpz@gmail.com, or on @adr.gonz.lpz
If you'd like to contribute a letter, email jwenzhuang@gmail.com.